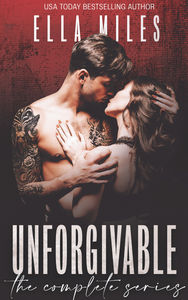 This boxset includes: Heart of a Thief, Heart of a Liar, Heart of a Prick
Heart of a Thief
I'm the villain in most romances.
I'm a thief that steals happily ever afters.
Except unlike most romances, love doesn't conquer me, I conquer it.
I've stolen countless women from unsuspecting men.
Gotten my one night with them.
And then watched the heartbreak that occurs in my wake.
Love doesn't survive once I enter the picture, if it ever existed at all.
Although, stealing Sloane might be my greatest challenge of all.
Asher is a villain trying to a put a horrible life behind him by doing the only two things he knows to do: surf and steal. Sloane is an angel that runs a charity helping children needing a fresh start. Asher will do anything to have her. There is just one problem...she's about to marry another man.
Heart of a Liar
He's a liar.
I know that. It's why I broke up with him almost two years ago.
But when he walked into my veterinarian clinic, my heart forgot all about his lies. Instead, it ached for him. Begging my body to take him back. Or at the very least f**k him.
It's been far too long since I've been f**ked by a man that knows exactly what I want in bed. And Luca knows how to make me come alive in a way no other man can.
I need to stay away from him. But somehow one sexy grin and I'll do anything he wants.
First, I'll f**k him.
Just one last time to get him out of my system.
And then, I'll kick him to the curb.
I just hope this time I can survive his lies. Should be easy since I don't plan on keeping him around long enough to hear them. But what if his lies are hiding a secret that I was never supposed to know?
Heart of a Prick
I need a man.
I've got this relaxing thing on the beach down. The bartender is wrapped around my finger, bringing me drinks the second mine is remotely empty. Now I just need a man in my bed for the week, and I'll be all set.
Not just any man will do though.
I want wild animal sex.
The kind that involve tying each other up and spanking and all things kinky. The kind that no guy back home would dare to do.
Really I need a distraction. Someone to make me forget about all my troubles waiting for me when I get back home. Trouble that I have no idea how to get out of. I'm not even sure how to stay alive.
There are plenty of hot men at this resort just waiting to serve as a perfect distraction. But how do I find a guy who will give in to all my darkest desires?