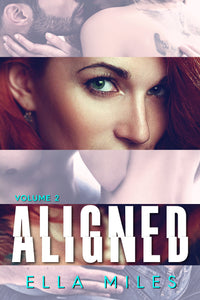 My mind is a mess.
I can't live this way anymore. He thinks I've told him the worst, but I've barely told him anything at all.
I can't love Landon.
He just brings more confusion. I need to leave. Then I can break through the chaos that haunts me.
~
My mind has never been so clear.
I'm writing new songs faster than ever before. I'm falling for her, even as the secret that I've kept hidden for years threatens to reveal itself.
I can't love Alex.
Everyone will know I'm a monster. I'll stay away. It's the only way.
 
Aligned is a 4 part series that is a little bit dirty and grows darker with each book. Each book ends on a cliffhanger.

Series Order:
Aligned: Volume 1 (Novella)
Aligned: Volume 2 (Novella)
Aligned: Volume 3 (Full Length Novel)
Aligned: Volume 4 (Full Length Novel)