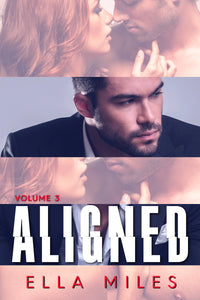 He's alive.
I don't know how, but he's standing here in the doorway. A torn piece of green silk sticking out of his pocket matching the fabric that I carry with me everywhere to remember him.
My heart has been torn in two. 
I don't know who I'm supposed to love. A man that has stolen my heart or my husband who I thought was dead.
~
He's fucking alive.
That can't be possible. I found someone I could finally love. Someone I want to spend the rest of my life with.
But I can't love Alex.
Not now. I have to let her go. It's the only way I can save her. I just hope I'm strong enough to save myself.
 
Aligned is a 4 part series that is a little bit dirty and grows darker with each book. Each book ends on a cliffhanger.

Series Order:
Aligned: Volume 1 (Novella)
Aligned: Volume 2 (Novella)
Aligned: Volume 3 (Full Length Novel)
Aligned: Volume 4 (Full Length Novel)