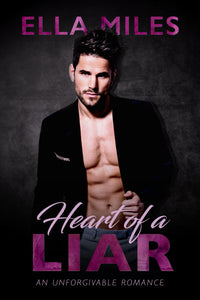 Unforgivable Series #2
He's a liar. 

I know that. It's why I broke up with him almost two years ago. 

But when he walked into my veterinarian clinic, my heart forgot all about his lies. Instead, it ached for him. Begging my body to take him back. Or at the very least f**k him.

It's been far too long since I've been f**ked by a man that knows exactly what I want in bed. And Luca knows how to make me come alive in a way no other man can. 

I need to stay away from him. But somehow one sexy grin and I'll do anything he wants. 

First, I'll f**k him.

Just one last time to get him out of my system. 

And then, I'll kick him to the curb.

I just hope this time I can survive his lies. Should be easy since I don't plan on keeping him around long enough to hear them. But what if his lies are hiding a secret that I was never supposed to know?


Unforgivable Series
Heart of a Thief
Heart of a Liar
Heart of a Prick