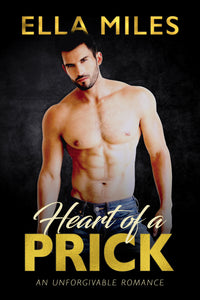 Unforgivable Series #3
I need a man.
I've got this relaxing thing on the beach down. The bartender is wrapped around my finger, bringing me drinks the second mine is remotely empty. Now I just need a man in my bed for the week, and I'll be all set. Not just any man will do though. I want wild animal sex. The kind that involve tying each other up and spanking and all things kinky. The kind that no guy back home would dare to do.
Really I need a distraction. Someone to make me forget about all my troubles waiting for me when I get back home. Trouble that I have no idea how to get out of. I'm not even sure how to stay alive. There are plenty of hot men at this resort just waiting to serve as a perfect distraction. But how do I find a guy who will give in to all my darkest desires?


Unforgivable Series
Heart of a Thief
Heart of a Liar
Heart of a Prick