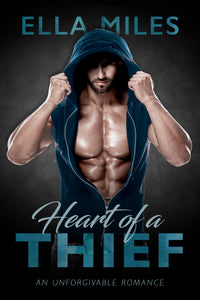 Unforgivable Series #1
I'm the villain in most romances.
I'm a thief that steals happily ever afters.
Except unlike most romances, love doesn't conquer me, I conquer it.
I've stolen countless women from unsuspecting men.
Gotten my one night with them.
And then watched the heartbreak that occurs in my wake.
Love doesn't survive once I enter the picture, if it ever existed at all.
Although, stealing Sloane might be my greatest challenge of all. 


Asher is a villain trying to a put a horrible life behind him by doing the only two things he knows to do: surf and steal. Sloane is an angel that runs a charity helping children needing a fresh start. Asher will do anything to have her. There is just one problem...she's about to marry another man.


Unforgivable Series
Heart of a Thief
Heart of a Liar
Heart of a Prick